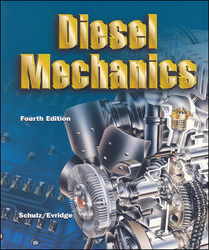 Diesel Mechanics
ISBN 10: 0028034627

ISBN 13: 9780028034621
Introduction to Diesel Engines Safety Tools and Equipment Engine Oil Diesel Fuel Engine Performance Terminology Cycle Operation Combustion Chamber Basic Eng
Key Features
Provides new maintenance techniques and covers recent advances in electronic engine controls.
New coverage of air brakes and enhanced coverage of engine operation under extreme conditions.
Multiple-choice format for end-of-chapter questions makes text consistent with ASE guidelines.
Flexible organization allows instructors to assign chapters to match their course syllabi.
Reminders throughout regarding importance of preventive maintenance and quality workmanship underscore the importance of avoiding expensive downtime.
Provides dual dimensioning (English measurements and metric units).
Appendices include conversion tables and a glossary of diesel terminology.