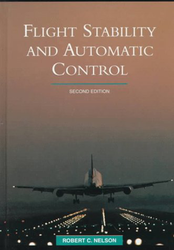 Flight Stability and Automatic Control
ISBN 10: 0070462739

ISBN 13: 9780070462731
1 Introduction 2 Static Stability and Control 3 Aircraft Equations of Motion 4 Longitudinal Motion (Stick Fixed) 5 Lateral Motion (Stick Fixed) 6 Aircraft Response to Control o
New Features
Many more worked examples and end-of-chapter problems, some of which require computer solutions, are integrated throughout the text.
An expanded section on automatic control theory and its application to flight control system design is now included.
Chapters covering the topics of static stability, flight control, aircraft dynamics, and flying qualities have been improved.
Problems that require the use of a computer are now clearly identified.
Material is introduced by way of simple exercises so students can see how the design process is applied without a lot of mathematical complexity.
Interesting historical notes are presented throughout the text.
The text provides an integrated treatment of aircraft stability, flight control, and autopilot design.