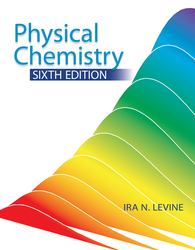 Physical Chemistry
ISBN 10: 0072538627

ISBN 13: 9780072538625
1 Thermodynamics 2 The First Law of Thermodynamics 3 The Second Law of Thermodynamics 4 Material Equilibrium 5 Standard Thermodynamic Functions of Reaction 6 Reaction Equilibri
New Features
Review sections interspersed throughout the text after every few chapters.
Key Features
Additional homework problems testing the qualitative understanding of physical chemistry content has been integrated into this edition.
The in-chapter examples are written to lead the student to a clearly worked-out answer. The examples are followed by a corresponding exercise requiring the student to practice the same thought process. The answer for each exercise is also given.
Clarity of Writing: The writing is clear and easy to follow. Technical terms and concepts are introduced with the necessary background information to understand the basis for bringing them into the discussion.
Completeness: The book gives the student careful definitions and explanations of concepts, full details of most derivations, and reviews of relevant topics in mathematics and physics. A mix of theoretical and practical applications is presented.