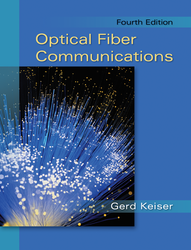 Optical Fiber Communications
ISBN 10: 0073380717

ISBN 13: 9780073380711
Chapter 1 Overview of Optical Fiber Communications Chapter 2 Optical Fibers: Structures, Waveguiding, and Fabrication Chapter 3 Attenuation and Dispersion Chapter 4 Optical Sources
New Features
New chapter on Nonlinear Effects
New sections: Photonic crystal fibers, specialty fibers, cable installation; Coherent detection, DQPSK, and error detection/correction; Radio-over-fiber technologies; Raman optical amplification; FTTP networks; Network performance monitoring and testing
Expanded coverage of power penalties, 10-Gb/s links, WDM devices, optical networks.
Key Features
A comprehensive treatment of optical-link constituents such as optical fibers, light sources, photo detectors, connecting and coupling devices, and optical amplifiers.
The design principles of digital and analog optical fiber transmission links, including optical power budgets, signal rise times, line coding, and noise effects on system performance.
The operating principles of wavelength-division multiplexing (WDM) and the components needed for its realization.
Descriptions of the architectures and the performance characteristics of optical networks for connecting users having a wide range of transmission needs.
Discussions of advanced optical communication techniques such as solition transmission, optical CDMA, and ultrafast optical time-division multiplexing.