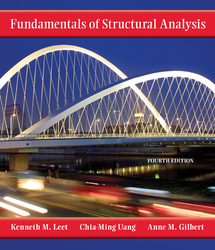 Fundamentals of Structural Analysis
ISBN 10: 0073401099

ISBN 13: 9780073401096
Chapter 1 Introduction Chapter 2 Design Loads Chapter 3 Statics of Structures-Reactions Chapter 4 Trusses Chapter 5 Beams and Frames Chapter 6 Cables Chapter 7
New Features
Enhanced Treatment of Design Loads is given in Chapter two. Superior coverage of various loads including gravity, wind, earthquake, and snow loads that includes live and dead loads based on teh ANSI/ASCE 7 Standard.
Historical Notes have been added to various chapters providing points in the history of accomplishments and developments in structural analysis methods. These provide context and promote learning.
Example PowerPoints Expanding on the strength of the text's numerous examples, please take advantage of this NEW resource to discuss the examples in-class without writing them on the blackboard! The in-text examples are provided with their step-by-step calculations AND their solutions...along with all their corresponding figures!
Key Features
Companion Website for Students and Instructors is available at http://www.mhhe.com/leet. The site offers as RISA-2D, an image bank of the text's art, helpful Web links, and solutions.
Money-Saving eBook Option An electronic eBook version of this title is available at CourseSmart.com -- ISBN: 9780077305987
Computer Problems guide student understanding of the behavior of trusses, frames, and other structural systems that are commonly used in buildings and bridges. RISA-2D software is available free of charge with the text to help solve these problems.