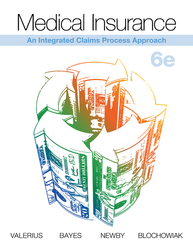 Medical Insurance: An Integrated Claims Process Approach
ISBN 10: 0073513717

ISBN 13: 9780073513713
Preface
Acknowledgments
Part 1 WORKING WITH MEDICAL INSURANCE AND BILLING
Chapter 1
Introduction to the Medical Billing Cycle
1.1
New Features
Meets Instructor/Student Goals: The text is closely matched with the typical curriculum and goals of both instructors and students. It is tightly focused on important concepts and skills, omitting extraneous material. The coverage of procedural knowledge, communications skills, and health information management skills prepares students to successfully perform the duties of medical insurance specialists.
Expanded introduction to ICD-10-CM, with an optional chapter covering ICD-9-CM and ICD-10-CM available through McGraw-Hill's Create. Adoption of Medical Insurance 6e allows for 29 days free access to CodeItRight Online, an experience with an Internet-based code assignment service.
2013 ICD-10-CM and CPT/HCPCS codes are included. The new Notice of Privacy Practices (NPP) that addresses disclosures in compliance with HITECH is illustrated.
McGraw-Hill's Connect includes all End-of-Section and End-of-Chapter questions, as well as simple interactives for each chapter.
Case studies can be completed with one of three methods: 1. paper CMS-1500 form; 2. electronic CMS-1500 form at www.mhhe.com/valerius6e; or 3. simulated Medisoft Version 17 exercises in McGraw-Hill's Connect. You can find out more about these options in the book appendices.
The text-specific workbook provides both review and applications learned in the textbook. The workbook is learning outcomes-based. In addition to claim completion case studies, applications include math and communication skill development.
Extensive instructor resources are available at www.mhhe.com/valerius6e, including the Instructor's Manual, Electronic Testbank, PowerPoint Slides with Teaching Notes, Sample Syllabi, Competency Correlations and an asset map.