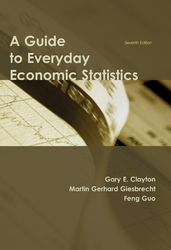 A Guide to Everyday Economic Statistics
ISBN 10: 0073523194

ISBN 13: 9780073523194
Chapter 1: Introduction
Chapter 2: Total Output and Income
Chapter 3: Production and Growth
Chapter 4: Investment and Capital Expenditures
Chapter 5: Employment
New Features
Reorganized and Updated: The Seventh edition includes a reorganization of old chapters and some great new material. "Total Output, Production and Growth" has been split into two chapters: "Total Output and Income" (which integrate Income from previous edition Chapter 4) and "Production and Growth" Each chapter has been updated and reorganized to fit with current economic events.
Web Links: The Seventh edition contains relevant web sites that provide links to background readings and source data for every statistic in the text, which is outstanding aid for further student research. Students are able to access the economic data that continues to evolve at www.EconSources.com.
Updated Discussion on Statistics: Statistics are constantly evolving and updating. Discussion on international investment and trade, the political responses to our recent economic difficulties, and the Consumer Price Index is integrated throughout this edition.
New Topics: New discussions of the Primary Credit Rate and LIBOR are included in Chapter 7. The new section in Chapter 2, "Recession vs. Depression," answers this question for students and includes a detailed list of business cycle expansions and contractions in the United States since 1860. NIPAs are also included in Chapter 2.
Key Features
Combines sources and data with interpretation, historical perspective, understanding, and analysis.
Common-sense framework: Provides a common-sense framework of reference for understanding, using, and interpreting the basic economic statistics we encounter in our daily lives.
Strong graphs: Clayton/Giesbrecht/Guo provides extensive graphical presentation of statistical series; coverage includes from 1959 to the first quarter of 2009.
Prior knowledge: Prior knowledge of economics not necessary. The Seventh edition is appropriate for all introductory courses.
More
Martin Gerhard Giesbrecht