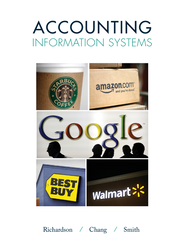 Accounting Information Systems
ISBN 10: 0078025494

ISBN 13: 9780078025495
Part 1: AIS and the Business
Chapter 1: Accounting Information Systems and Firm Value
Chapter 2: Accountants as Business Analysts
Chapter 3: Data Modeling
Chapt
New Features
Provides modern, current examples that students can identify with such as Starbucks, Walmart, Google, Amazon, ESPN, Hershey's Corp., and Dunkin' Donuts.
Covers move to Internet-based systems, software as a service, and mobile access to enterprise information as well as increased security and control requirements.
Recent federal legislation such as the Sarbanes-Oxley Act and COBOT (CobIT) and COSO frameworks describe how organizations deal with risk management.
Brief at 384 pages, covering practical business analysis skills.
Helps student learn to design business processes and represent them with standard documentation tools.
Designs and implements well-structured databases to enable business processes.
Queries databases to provide insights about the performance of business operations.
Evaluates internal control systems and applies business rules to implement controls and mitigate information systems risks.
Presents specific material on internal control and accounting information systems, as well as general information about computer fraud and security.
Describes how to monitor and audit accounting information systems.
Presents an integrated project starting in chapter 8 and asks students to apply the different techniques they have learned in chapters 5, 6, and 7.
Uses Microsoft Access database system.