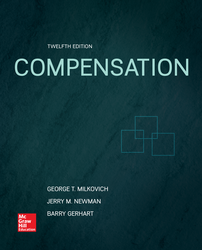 Compensation
ISBN 10: 007802949X

ISBN 13: 9780078029493
Part One-Introducing the Pay Model and Pay Strategy
Chapter 1: The Pay Model
Chapter 2: Strategy: The Totality of Decisions
Part Two-Internal Alignment: Determining the
New Features
All chapters have been revised. Each includes updated comparison of the pay strategies or practices used in specific, named companies. Some of these are well established and successful (Apple, IBM, Microsoft, Merrill Lynch, Nucor, Toyota), some face real problems (American Airlines, Best Buy, General Motors), and others are using unique practices (Google, Whole Foods).
Greater emphasis is given to theoretical advances and evidence from research. Throughout the book the authors translate the evidence into guidance for improving the management of pay.
Chapters 12 and 13 have been heavily revised, reflecting the warp speed changes in benefits' practices.
New! Nucor, a manufacturing success story in the United States, is now highlighted in Chapters 1 and 2.
CourseSmart eBook (ISBN: 9780077512897): Students can save money and obtain online access to their textbook, anywhere, anytime, or choose to download a copy of the text to their computers' hard drives. Students can take advantage of a smarter way to learn with search capabilities, highlighting and note taking features, and more. The CourseSmart e-books is compatible with many mobile devices, including the new Apple iPad.
CREATE, our Custom Textbook Option Craft your teaching resources to match the way you teach! With McGraw-Hill Create, www.mcgrawhillcreate.com, you can easily rearrange chapters, combine material from other content sources, quickly upload content you have written like your course syllabus or teaching notes, then personalize your book's appearance by selecting the cover and adding your name, school, and course information. Find the content you need in Create by searching through thousands of leading McGraw-Hill textbooks. Arrange your book to fit your teaching style. Order a Create book and you'll receive a complimentary print review copy in 3 – 5 business days or a complimentary electronic review copy (eComp) via email in about one hour. Go to www.mcgrawhillcreate.com today and register. Experience how McGraw-Hill Create empowers you to teach your students your way.
Key Features
The 11th edition continues to emphasize the importance of total compensation advantage and reinforces the idea that beyond how much people are paid, how they are paid really matters.
Ethics, values and the apparent absence of standards of conduct in compensation management, so widely reported in today's headline news and dissected in blogs, are discussed throughout.
Your Turn Exercises are real-life exercises that ask the student to apply the concepts and techniques discussed in each chapter.
In each chapter, Internet Exercises called e-Compensation help students learn where to find compensation material on the web.
The global flavor of this text has been retained; it contains an international chapter plus global examples throughout all chapters.
The authors also publish Cases in Compensation, an integrated case designed to provide additional practical skills applying the material in this book. The casebook is NOT a McGraw-Hill/Irwin product, but it is made available directly from the authors (telephone 310-450-5301; e-mail gtm1@cornell.edu). Completing the integrated case helps students develop skills readily transferable to future jobs and assignments. Instructors are invited to call for more information on how Cases in Compensation can help translate compensation research and theory into practice and build competencies for on the job decisions.