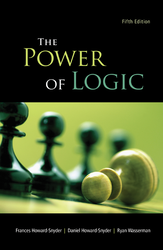 The Power of Logic
ISBN 10: 0078038197

ISBN 13: 9780078038198
Preface Chapter 1. Basic Concepts Chapter 2. Identifying Arguments Chapter 3. Logic and Language Chapter 4. Informal Fallacies Chapter 5. Categorical Logic: Sta
New Features
A reorganized and refocused chapter on inductive logic provides a clearer treatment of various forms of inductive argument, and helps to clarify the relationship between inductive logic and probability.
New exercise sets in Chapter 9 allow the instructor to introduce the rules of predicate logic at a more gradual pace, helping to ease students into the most challenging chapter of the book.
Dozens of new definition boxes help students remember key terms and quickly find relevant passages.
Many new summary boxes provide students with simple, easy-to-find summaries of challenging material.
Key Features
Interactive. Includes proof, truth table, and symbolization assessments on the Online Learning Center that allows students to practice and test themselves in an online environment that provides immediate feedback.
Balanced. Provides a wealth of examples from a wide range of views and perspectives.
Flexible. Offers balanced and thorough coverage of both informal and symbolic logic. Instructors can choose various paths through which to move through the text depending on the focus of their course, making it a flexible resource for any kind of introductory logic course.
Brief. Presents concepts in a brief, clear, precise, and straightforward manner.
Practical. Focuses on the relation between logical principles and arguments in ordinary language. The examples and exercises illustrate the power of logic as a tool for formulating arguements about important problems and issues that are relevant to students.