Sign In to Request My Free Copy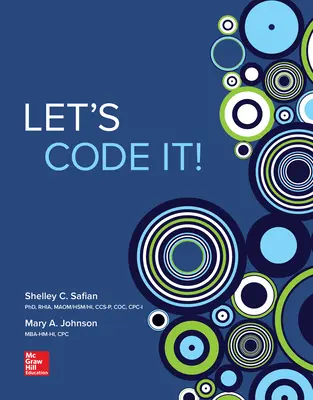 Let's Code It!
1st Edition
By: Shelley Safian , Mary Johnson
© 2019
Published: January 22, 2018
Journey to Coding Career Success—Use the most efficient learning tool specifically for you to achieve your career goals in your journey to a successful career in medical coding. Instruction is presented in easy-to-understand language with numerous examples. Hands-on practice encourages critical thinking using realistic physician documentation from both outpatient and inpatient facilities. Students are carefully guided to select the most appropriate codes for diagnoses, procedures, and ancillary services. The complete program developments a solid foundation to pass medical coding certification and build a successful career after graduation.The Safian/Johnson Medical Coding series allows you to select the solution that best fits your curriculum. Select from the following options:Let's Code It! for comprehensive coverage of ICD-10-CM/PCS, CPT®, and HCPCSLet's Code It! ICD-10-CM for coverage of diagnosis codingLet's Code It! ICD-10-CM/PCS for coverage of ICD-10-CM and ICD-10-PCS codingLet's Code It! Procedure for coverage of CPT, HCPCS, and ICD-10-PCS codingYou Code It! Abstracting Case Studies Practicum, 3e for extensive coding practice with realistic case studiesThese products provide your students with the medical coding experience they need in order to pass their first medical coding certification exams, such as the CCS/CCS-P or CPC/CPC-H. The products offer students a variety of practice opportunities by reinforcing the learning outcomes set forth in every chapter. The chapter materials are organized in short bursts of text followed by practice—keeping students active and coding! These products were developed based on the 2017 code sets and answer keys and Connect case studies will be updated annually when new code sets are released.